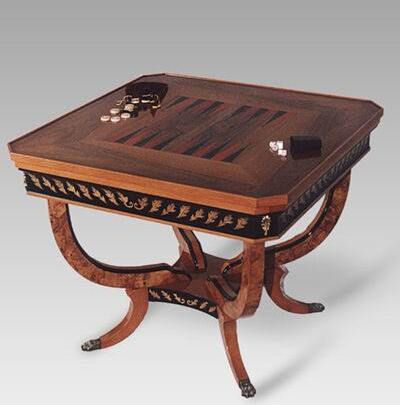 Stoły wielofunkcyjne do gry "Biedermaier".
Chciałbyś zaskoczyć czymś swoich gości a zarazem posiadać piękny, stylowy mebel?
Teraz to możliwe! Tak, dzięki serii stolików wielofunkcyjnych Biedermaier będziesz mógł zagrac w ruletkę, black jacka, szachy, a może również w backgammona i karty.
Wszystkie nasze stoliki wykonywane są we włoskiej manufakturze i cechuje je wysoka jakość wykonania i zaskakujące, przypadające do gustu wzornictwo.
Zwróć również uwagę na model przenośnej sasziery. Dzięki niej zagrasz w szachy i ruletkę w każdym miejscu i to w luksusowym wydaniu.